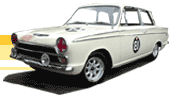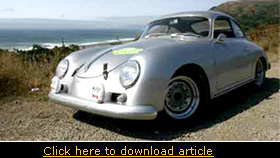 The California Melee
is the Original low buck classic sports car rally. In mid-September each year (specifically the weekend after Labor Day) the California Melee gathers a limited group of mischievous old car enthusiasts and treats them to a three-day, 750 mile tour of the most beautiful roads that Northern California has to offer... On the Cheap! Unlike some similar events, we understand the cost of building and running old cars, so we have always believed that an event shouldn't cost more than a set of used tires, or maybe a homemade wiring harness.

Sure, chances are you won't see pre-war Alfas, or enjoy a catered lunch at a winery, but you will have the thrill of running with oil burning E-types, and enjoy a sleepless night at a seedy motel. Remember what we lack in pedigreed machinery and gourmet cuisine we make up for in pure grass roots enthusiasm and fun.

However, don't be ashamed if your car regularly scores 100 points, we like those too. What's important is your enthusiasm, and a desire to mix it up with the often-unwashed masses of car collecting. All that's required is a good attitude, a pre-1975 sports or touring car and a paltry entry fee ($299 in 2004) which covers both driver and passenger and includes motel, awards banquet, t-shirts, stickers and more!


This just in!
Click above to download Randy Nonnenberg's article on the 2007 California Melee as reprinted from the
356 Registry magazine
, May / June 2008.